Flower Show and Tea Party 2014.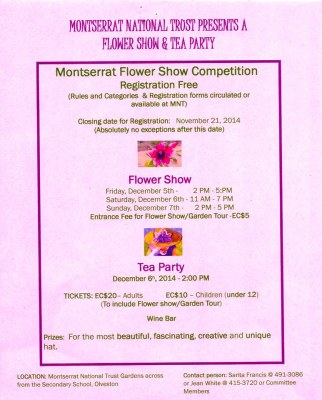 2ND ISSUE OF OUR 2014 NEWSLETTERS IS OUT- JULY

If you have been following events at the Montserrat National Trust, then you will recall that the Trust promised to produce two Newsletters yearly ,starting this so that you remain up to speed with all that takes place within the organization. We are halfway past the year and the and the journey has been filled with activities so profound to us as people of Montserrat, locally and abroad as it is reminiscent of our history and this included our St Patrick's Holiday activities.
The Montserrat National Trust would like to express gratitude towards all those who visited the Island, our Exhibitions, Botanical Gardens and the Museum in the first half of the year.
The link below will take you through mos,t if not all of our major highlights in the first half of 2014.
1st Issue Of Our 2014 Newsletters, is out-January
The Montserrat National Trust in 2013 had several projects to take on while a lot of events of significance were recognized in many different ways throughout the year 2013.Our communities as usual came on board to partake in most of these history making events and of note was our December Flower Show and Tea Party which were a resounding success. We are therefore to delighted to celebrate all our 2013 achievements in our first and latest Newsletter issue of 2014.
To find out about all these many projects, events and general information about the Montserrat National Trust. Please click the link below;